Help us to spread the word that Adoption is the best Option!
FREE WAYS TO HELP: We have created this page so we can keep coming up with fun, easy, low-cost ways that you can help us to spread the word and make a difference. Social media sites are a FANTASTIC way to promote the adoption centre without costing you a cent as are intranets and websites. Please use this website and the tools/ideas below to let people know that their new best friend could be waiting for them at Dogwatch.
Keep up with all the news and events at the Adoption Centre by subscribing to The Dogwatch Newsletter
Follow us on Facebook and share our news!
Facebook is a great way to keep up with what is going on at the Adoption Centre. We post pictures of all our new arrivals as well as wonderful pictures of lucky dogs and puppies going home with their new families. News, adoptions, rescues and coming events… you will find it all on Facebook!
Display Posters, Flyers and the Dogwatch Brochure!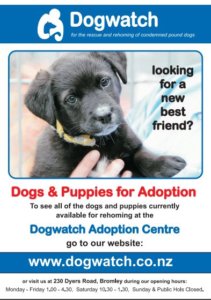 This A4 size, downloadable/printable flyer is one way for you to spread the word on notice boards, intranets, websites, countertops, shop windows… the possibilities are many and the benefits are lifesaving!
Download here: Dogwatch Adoption Centre Flyer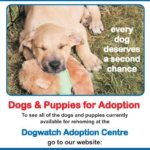 Download here: Dogwatch Adoption Centre Flyer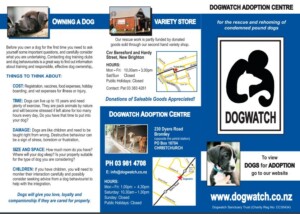 This double sided, three-panel brochure covers who we are, what we do and things to think about if you are considering adopting a dog. The back panel contains contact details and opening hours for both the Dogwatch Adoption Centre and the Dogwatch Variety Shop in New Brighton.
Download here: Dogwatch Brochure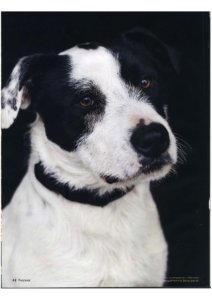 Dogwatch was fortunate to have an article published about what we do by Four Avenues, and highlights our people and the work we do here at Dogwatch. You can download this here: