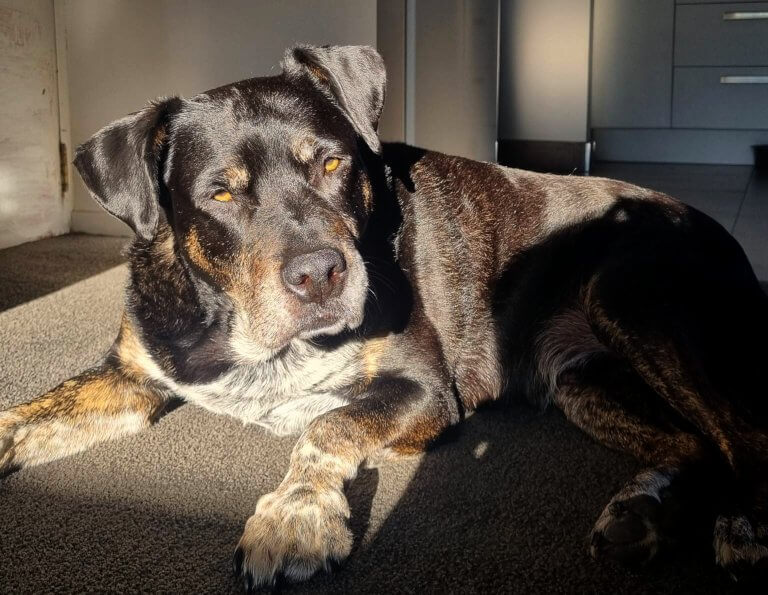 Hi. My name's Turbo, although I'm not very Turbo anymore because I'm 13 years 'young' and here's my success story.
I started of my life as a working farm dog. I have a big squashed front paw from an old farm accident to prove it! Then I retired and went through a couple of homes that just weren't the right fit for me before I was left in Bottle Lake Forest.
As soon as I came into Dogwatch last year my new mum, who is a Dogwatch volunteer fell in love with me and wanted to give me a nice retirement home. I totally mastered the sad eyes and she was a sucker for it.
My favourite things in life are food (that's the lab in me) although I'm on a diet at the moment. On my twice daily walks I like to find ALL the cat poo I can to eat (the lab again, food is food!) before mum can stop me. I can't go too far at once because I have arthritis but I'm on some pretty sweet meds that help a lot. I have a new brother Sanchez who can cuddle up with me and I love human cuddles on the couch (I sometimes need a lift by mum or dad to get up).
I'm SO happy and content in my new home. Whenever mum or dad gets home I'm at the door waiting, wagging my whole entire body while my privileged little brother waits for mum and dad to come to him. My new mum and dad are very very happy they got me, I know because they tell me all the time.