Cool stuff that helps us to help them!
2020 Dogwatch Calendar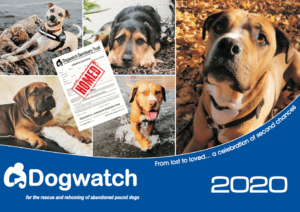 From lost to loved… a celebration of second chances.
This beautiful glossy, high-quality, calendar features gorgeous pics of the beautiful dogs and puppies that have been rescued and re-homed by Dogwatch taken by the people who love them to bits.
We asked the wonderful people who have adopted our dogs to send us their 'special' photos and that is exactly what they did. This calendar is full of very lucky, adored dogs on the beach, on the couch, sleeping by the fire, playing with the other members of the pack or just enjoying life in general… photos that make your heart smile and say, without words, why we all believe in second chances!
Your purchase will help us to save more lives just like these.
Super cool paw print stickers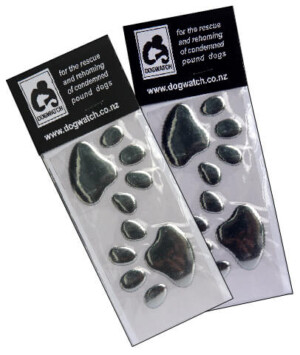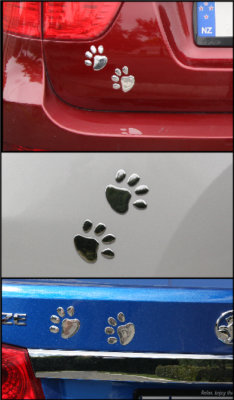 Self adhesive stickers PAWFECT for:
Cars
Windows
Letter Boxes
Counter Tops
or any smooth surface!
PVC (look just like chrome), won't hurt paintwork, great stickability.
Very easy to apply (instructions included)
$5.00 per packet (two prints per pack)
To order you can either:
Call into the Adoption Centre (see map and address on the right), or
Download our order form here then either email info@dogwatch.co.nz, standard mail, fax or phone us to place your order.
Recipe Book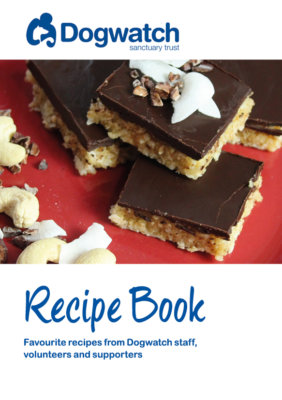 Price: $15
A collection of 50 favourite recipes from Dogwatch staff, volunteers and supporters compiled in an easy to use spiral bound book. It makes a perfect gift for the vegetarian or vegan in your life. It includes something for everyone with both savoury and sweet recipes as well as some favourtie drinks and dog treat recipes.
To order you can either:
Call into the Adoption Centre (see map and address on the right)
or email info@dogwatch.co.nz,
Cupcake Fundraiser
We are raising funds with the Entertainment book again in 2018, click on the link below to purchase. We receive $14 from every sale.
https://www.entertainmentbook.co.nz/orderbooks/137164x