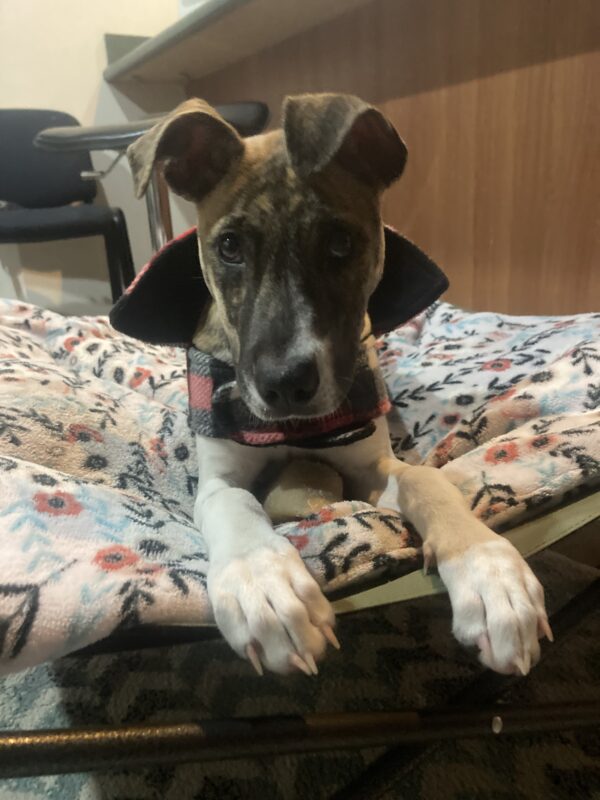 More about Pepper
Update 9/7: Applications for Pepper are closed as she is on a month's trial adoption with a family. 
Pepper is a beautiful 15-week-old female Staffy/Greyhound cross rescued from a private situation.
Pepper is a bright, active wee girl who is in the process of learning about life and experiencing new things. She is a confident girl, who takes everything in her stride. She loves human company and adores everyone. She is curious pup and enjoys exploring in the backyard and always has her nose to the ground.
Pepper is currently in foster-care with four children – the youngest being 5-years-old. She is also currently living with a cat and learning how to co-live nicely with her. She is quite intent on wanting to 'play' with the cat currently, so she would not be suitable to be homed with a timid cat/one that will run. She is regularly meeting other dogs and although can be a little unsure of boisterous play, she enjoys their company and is showing to be a social girl. It will be important that she is provided with ongoing opportunities to socialize with other dogs whilst she is still developing and going in and out of fear periods so that she continues to be dog-social. Pepper has been really good with the children, but she can get nippy when she is over-excited or over-tired so this would need to be managed if she goes to a home with children.
Pepper will need a home that has a max of four hours home alone, due to the need for her ongoing training, socialization, and lunch feeds. Her new family will need to commit to her ongoing training and preference will go to those that are willing to go through puppy school. She is a beautiful wee girl and she will thrive in an environment where she is allowed to experience lots of new things in a gentle and non-flooding manner, meet lots of people, and continue her dog-socialization. She is likely to be a tall girl as she has lanky legs, and she LOVES to run. She is likely to be quite an active dog with medium to high energy levels.
If you think you could offer Pepper a place in your home, please complete an application form. 
Last updated: 10/6/22