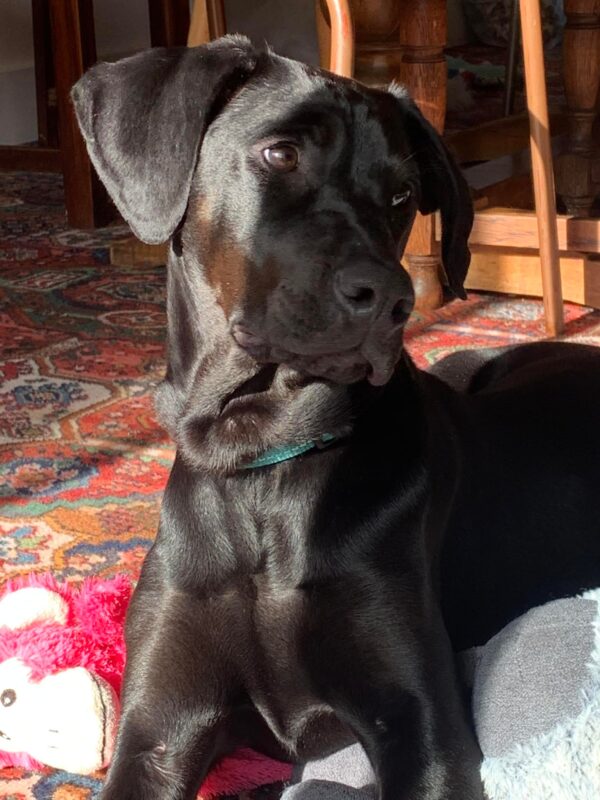 More about Roxie
Update 26/8: Roxie is now on trial adoption with a new family. 
Gorgeous Roxie is a 13-week-old Doberman/Vizsla cross who was rescued from a private situation. She is a beautifully natured girl who is looking for the right home, one that will help her become the best dog she can be.
Roxie is currently in foster-care with four children and a cat. She does have a tendency to want to chase the cat, so this would need to be carefully managed in the home if there is a cat present, with ongoing management. She does well with the children, and is a happy-go-lucky girl. She can be a bit unsure/fearful of some situations such as being in new places which is not unusual for a young puppy learning about the world. She will need gentle exposure to all the right things on a daily-basis while she is young so that she grows in her confidence.
Roxie is a combination of two high energy, and VERY intelligent breeds so we are looking for a home that will be able to offer her the right amount of both mental stimulation and physical exercise (age appropriate for her as she grows, of course!). She is a busy girl and very much in her puppy stage, so anything which is in reach is fair game for her! She is learning the basics currently and is proving to be an incredibly fast learner, so she has so much potential. She loves to use her nose and benefits from simple enrichment games to keep her smart and busy mind occupied.
Due to Roxie's age, we are looking for a home that has some day-time company, and owner(s) who will be committed to her ongoing training and exposure. Experience with large/busy breeds would be beneficial, but it is certainly not essential as we are able to provide all the guidance needed. We recommend that you read-up about Doberman's and Vizsla's before applying, to ensure she would be the right fit for your household. If you think you can offer Roxie the love and stimulation she needs, you can complete an adoption application here.